Go therefore and make disciples of all nations
God has gifted each of us with specific abilities and resources in order to serve people and grow His Kingdom. We encourage you to find a place where you can plug in.
Serve the Kingdom locally and all over the world with these mission opportunities
No matter where you are in life, we have a place for you to plug in and serve. Follow the link to the VOMO app, download it to your mobile device and join the movement to connect people with the love and the life of Jesus Christ.
This week we are praying for the people of cape verde.
Find information and prayer points at prayercast.com.
This year we have decided to focus on Compassion Focus Ministry in Makapur India, Grace Place, Agape Homeless Ministry, and Jardin de Milagros. Although the world around us has been drastically changed by the devastating effects of the Covid-19 Pandemic, the need remains more prevalent now than ever. Together we can help fill that need in our very own community and around the world. Will you Feed the Need and fill in the G.A.P? (Give. Act. Pray)
Grace Place
This community center is where some of FBC's already vibrant ministries can meet the community head-on at a deeper, more personal level. At Grace Place, we will share the gospel of Jesus one encounter at a time. Members of our community who may never have walked through our church doors can experience God's love in a personal and mighty way. It will be a place of connection, reconciliation, and nurturing where individuals have the opportunity to restore their relationships with God, self, and others through the aide of the Holy Spirit.

Compassion Focus Ministry
Less that 2% of the massive population of India identify as Christian. Compassion Focus has set up a wide-reaching, multi-faceted organization by digging and maintaining wells, caring for orphans, aiding poverty-stricken individuals by providing them with food, assisting widows, running a Christian school, organizing mentorship for Christian pastors, and evangelizing locals.

Agape Homeless Ministry
Every Sunday volunteers from FBC head down to the corner of 9th Avenue and South Oregon Street to feed the homeless and migrant workers community. We offer not only food for the body but also the soul. We have a mini worship service every week complete with Scripture reading, a sermon, worship songs, and lots of fellowship. We continue to build strong bonds with our 9th Avenue Friends, as we call them, and share the restoring power of a life lived in and for Christ.

Jardin de Milagros
This nonprofit organization in Anthony, NM grows 90,000 pounds of fresh produce each year in an effort to provide healthy food for for the food insecure in our El Paso area. On just three acres, Jardin de Milagros provides their many volunteers with an opportunity to feed and care for their neighbors.

General Feed the Need Offering
Funds will be distributed at the discretion of the Missions Committee to address the most pressing needs.
Agape is a ministry that brings a meal, worship and dignity to the migrant workers and homeless population each Sunday morning on 9th Street. Contact
Edgardo Martinez
to learn more.
Church plants and partners
Iglesia Cristiana Gracia Divina
Pastor Raul Ramirez
506 Hunter Dr., El Paso, TX 79915
Services Sundays 10:00 am–12:00 pm
Pastor Leobardo Landeros
1155 Berino Rd., Mesquite, NM 88048
Pastor Oscar Perez
224 Church St., Anthony, NM 88021
Services Sundays 10:30 am, Sunday School 11:30 am
Pastor Joselito Trujillo
4099 Desert Meadows, El Paso, TX 79938
Services Sundays 10:00 am
Pastor Patrick Shing
1000 Montana Ave., El Paso, TX 79902
Services Sundays 11:15 am
http://gcbcep.org/
International student fellowship
The International Student Fellowship of First Baptist Church is a ministry of hospitality to international students and community members in the El Paso area. UTEP currently has over 1,900 international students from 69 countries and there are many more at El Paso Community College, Texas Tech Medical Center not to mention internationals working in our community. The world has truly come to El Paso.

The International Student Fellowship (ISF) has been offering friendship and practical help to international students, scholars, and their families in the greater El Paso area since 2010.
We are sponsored by First Baptist Church.

Students from all religious and ethnic backgrounds are invited to participate in all ISF activities.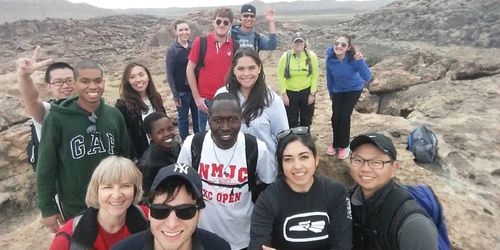 WE'D LOVE TO HEAR FROM YOU. FILL OUT THE FORM BELOW TO GET STARTED.