I am the vine; you are the branches. Whoever abides in me and I in him, he it is that bears much fruit, for apart from me you can do nothing.
As women of God, we recognize that we receive true life when we abide (remain connected) with Jesus Christ and that we can extend that life to the people around us by producing the fruit of the spirit.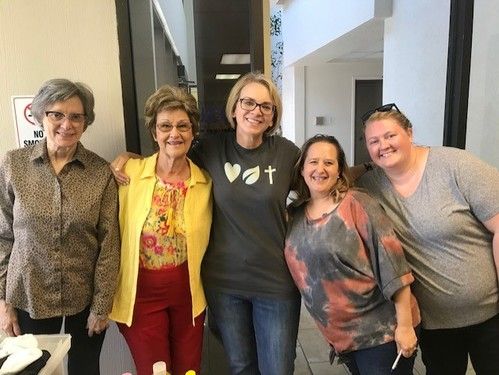 Abide Women's Ministry volunteering at Pregnancy & Fatherhood Solutions
Evening Study
Starting January 26 - March 3
Wednesdays, 6 - 7 PM
The Good Gospel led by Nancy Huff. Understand the greatest news you've ever heard!
Whether you've walked with Jesus for thirty years or never understood who He is, this
study on the gospel is for you! We look forward to this time together
remembering that what Jesus did for us changes everything!
LADIES' Winter BIBLE STUDY
Thursdays, 9:15–11:15 a.m.
January 13–March 3
$10/person

Throughout the Old Testament, beginning at Creation and going all the way to the end in the writings of the Old Testament prophets, God has progressively revealed himself – shown us who he is – by giving himself some unique and descriptive names. Join us as Connie Skarda teaches us to get to know God by name.
We'd love to hear from you. Fill out the form below to get started.