I am the vine; you are the branches. Whoever abides in me and I in him, he it is that bears much fruit, for apart from me you can do nothing.
As women of God, we recognize that we receive true life when we abide (remain connected) with Jesus Christ and that we can extend that life to the people around us by producing the fruit of the spirit.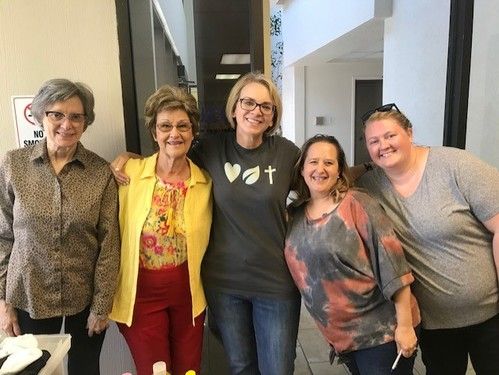 Abide Women's Ministry volunteering at Pregnancy & Fatherhood Solutions
October 30, 8:00 a.m.–10:00 a.m.
Please R.S.V.P. by October 27 (childcare available by reservation)

Join us as we ABIDE in HIM through a shared time of prayer!! This is a wonderful opportunity for women of all ages to grow spiritually. Each prayer time will have a unique focus but will center primarily on Ephesians 3:14-21. We will hold each prayer time on the last Saturday of the month (our activity calendar will reflect any changes in this schedule).
Thursdays, 9:15–11:15 a.m., beginning September 9
Ladies, join us for a new Bible study. The cost is $10 per participant and childcare is provided by reservation.
We will offer Women's Bible Studies in the fall and spring semester. The next available Bible Study will begin September 9. Please continue to watch for details.
We'd love to hear from you. Fill out the form below to get started.