A MESSAGE FROM THE COMMITTEE ON COMMITTEES
By Carol Graham, Chairperson of the Committee on Committees
The Committee on Committees is beginning the process of nominating people to serve on church committees and ministry teams. We will be contacting current standing committee members and ministry team leaders to thank them for their service and to determine if they wish to continue their service through the next term, which begins on September 1, 2021. We will also be contacting prospective new members to fill vacancies left by those rotating off. Most new terms of service for standing committee members will be for three years.

The Committee on Committees will be praying for the Lord's direction during this important time. We also ask you to be seeking the Lord's will about whether to serve when asked.

If you have any questions about the standing committees or ministry teams, please contact me, Carol Graham, at 915-269-0685 or Kara Jones at 915-533-1465.

May God continue to bless the ministries of First Baptist Church of El Paso.

Carol Graham,
Chair, Committee on Committees
I am personally thrilled to announce the start of the brand new Redeeming Art Ministry at First Baptist Church of El Paso. This endeavor to disciple believers through visual creativity has been my heart beat for many years. It is a tremendous and humbling blessing to witness the start of an art ministry in the church where I have been raised since I was a small child.
We are each given a measure of creativity; yes, ALL of us. God Himself is creative, and as His image bearers we also are creative in so many different ways. In making visual art, we are surrendering our minds, our hands, and our spirits to God's call to share His love and life with a world in desperate need of the redemption only He can provide. Learning how to express the things of God through the work of our hands both helps us to internalize the things that God has to teach us about Himself and it gives us a broader vocabulary useful for reaching the people around us. This is discipleship: breathing in the Word of God so that it nourishes and becomes part of us, and breathing out His Word to nourish and bring life to those around us.
For those of us who make art regularly, either as a hobby or professionally, learning how to hone our skills as artists with the purpose of bringing glory to God is an act of worship. Directing our hands to sing God's praises brings wholeness and purpose to our lives.
These truths are the foundation for Redeeming Art Ministry. As we get going, we will hold five foundational workshops, each with a different focus and lasting six weeks long. These workshop sessions will be just long enough to dip our toes into each topic and give us an introduction into the processes of making. They are open to FBC members of all skill levels who desire to learn about art and discipleship. For more details, the full schedule, and registration, tap the "Learn More" button.
Lastly, our desire is to expand the art ministry to include at least three additional instructors with a solid foundation of both theology and art education. If this appeals to you and if you are willing to be trained to instruct or assist with Redeeming Art Ministry, please email
nlicking@fbcep.com
to express your interest.
vacation bible school 2021
This year, we will have two different 3-day sessions of VBS in July for grade-school aged children (Kinder through 5th grade) that families may choose from:
July 7, 8, & 9 — 9:00 a.m.–12:30 p.m.
July 12, 13, & 14 — 6:00–8:00 p.m.

VBS 2021 is headed to present-day Israel where discovery awaits at Destination Dig. Kids will unearth more than dirt as they dig up exciting evidence that proves biblical events were not just stories. As junior archaeologists, kids will explore real-life archaeological finds that have helped to uncover the truth about Jesus! Along the way, they'll discover the truth of Jeremiah 29:13, that God reveals Himself to us when we seek and search for Him with all our hearts.

Participant registration opens June 1.
Volunteer Training: June 6 at 11:30 a.m. and 12:30 p.m.
We are so excited about taking a step FORWARD this Summer with an incredible local Summer Camp planned for June 27-30! FBC Youth will partner with several local churches (including Mesa Place Church, First Baptist Church of Horizon City, Del Sol Church, and Betesda Church) for an exciting local camp for middle school and high school students (grades 6-12).
FORWARD, the camp's name and theme, will feature inspiring messages and worship, engaging small group discussions, hands-on training, outreach and serving opportunities, fun activities, and great food. The purpose of this event is to provide students with an opportunity to get away from normal, connect with other students, and be equipped to go FORWARD in their life with the hope and purpose of the Gospel.
The devotions, messages, and small group discussions during FORWARD will help students
know why it's so important to own their faith;
think differently about their purpose and influence;
and equip them to practice the spiritual habits and actions necessary to grow a meaningful faith that will help them follow Jesus for the rest of their lives.
If you know of any middle school or high school students from outside of our church, please let them know that they are welcome to participate with us! Cost is only $100/person and includes food, a t-shirt, and everything else needed for an impactful week.
Registration for FORWARD will be online through
www.fbcep.com/youth
beginning June 4, with a registration deadline of June 20. Please pray for us as we continue to plan for this incredible event!
2021 GRADUATION CELEBRATION
We will celebrate the accomplishments of this year's amazing high school and college graduates on June 13.
Please submit the name of your graduate, their school, and their degree to Jeremy Kroeker by June 10 so that we might recognize them.
By Erick Jimenez, Minister of Discipleship
We want to thank all of the men who joined us this last weekend for our first men's breakfast in a few years. It was exciting to see over fifty of our church men joining us for a great time of fellowship and breaking bread. The ages ranged from 5 years of age to some of our men in their seventies. Please stay tuned for our upcoming events as we continue to plan and move forward with building relationships and establishing discipleship. We have another breakfast scheduled for August and as we plan accordingly we will communicate the detailed information. Your prayers are appreciated!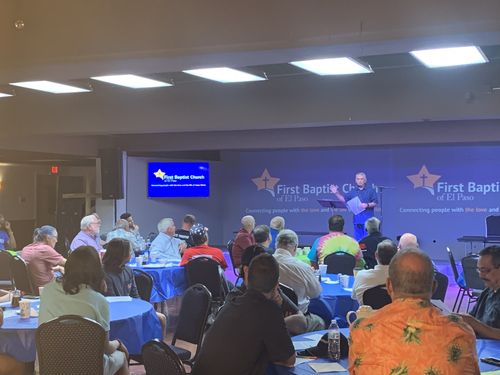 Debbie Wright by letter.
Bob and Janet De La Peña by letter.
Fatima, Vitarra, and Angel Juarez by baptism.
Beatrice Galloway by baptism.
Kelsey Dunning by baptism.
Shawn Sims and Georgia Lane by baptism.
Ellen Brooks and family in the passing of her husband, Don Brooks.
Kimham and Choghig Eter in the passing of his brother, John Eter.
The family of Phil Boaz.
Shellie Walker in the passing of her mother, Margaret Allyn.
Teresa Rotramel in the passing of her mother, Sharon Mearse.
Mike and Kelly Stewart in the passing of her brother-in-law, Scott Butler.
The family of Charlie Browne.
And those who belong to Christ Jesus have crucified the flesh with its passions and desires.
June 6 at 11:30 a.m. and 12:30 p.m. • VBS Volunteer Training
June 13 at 3:30 p.m. • Deacons' Meeting
June 13 • Graduation Celebration
June 27–30 • Youth Summer Camp/Conference
2020 (5 Sundays)
Budgeted — $189,626
Actual — $167,708
2021 (5 Sundays)
Budgeted — $212,024
Estimated — $135,000