BUT AS FOR YOU, O MAN OF GOD, FLEE THESE THINGS. PURSUE RIGHTEOUSNESS, GODLINESS, FAITH, LOVE, STEADFASTNESS, GENTLENESS.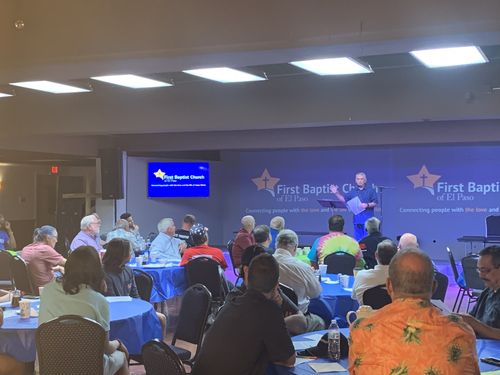 June 5, 7:00 a.m.–11:00 a.m.
RSVP by June 3
Must be 12 years old or older

The El Paso Tin Mines Trail is a 6.6 mile out and back trail located in Northeast El Paso that features beautiful wild flowers and is good for all skill levels. There will be a brief 5 minute "Trail Talk" at the Tin Mine.

Directions to Meeting Spot: Go North/Northeast on Highway 54. Take the Kenworthy/Martin Luther King Jr. Exit. Turn left onto MLK Jr. Blvd. Continue on MLK Jr. Blvd. to Jon Cunningham Blvd. Turn left onto Jon Cunningham Blvd. and continue for .4 mile. Meet at the Southeast Corner of Chuck Heinrich Park.

What to wear: Hiking boots or good athletic shoes. No open toed shoes or sandals. Hat. Sunglasses. Sunscreen.*

What to bring: At least 3 liters of water in a daypack or Camelback. Snacks. Small flashlight or headlamp if you wish to go into the short path into the mine.*

*If you are not dressed properly or did not bring the appropriate items, you will kindly be asked to leave the hike.
June 26, 8:30 a.m.–2:20 p.m.

We are planning projects to help support missions and church ministries. Come learn safe power and hand tool operation, cabinet construction, joinery, and furniture construction. Build some skills and enjoy some great fellowship!

Bring with you:
Safety glasses
Pencil
Work gloves (optional)
Tape measure (optional)
1780 Appaloosa Dr., Suite #1, Sunland Park, NM
Blue and White metal warehouse, enter parking lot off of Derby Rd.
Men are invited to fellowship together and to pray for one another and for our church, nation, and world. We meet every Thursday morning at the Denny's on Transmountain, on the northeast side of town.